Warning:
In order to develop new CLiC plugins, we'll illustrate everything with Maven, so we'll assume that you already installed it on your computer and configured it properly. If that's not the case,
please consider installing Maven before anything
.
As you may know, CLiC consists in a set of Eclipse plugins. Its extensibility relies on a common Eclipse mechanism called Extension Points, so in order to contribute new commands in CLiC, you'll have to develop some new Eclipse plugins.
The aim of this documentation isn't to explain how to develop Eclipse plugins, or how they should be organized, packaged, etc. But we'll assume that you actually never developed any kind of Eclipse plugins, and teach you all the steps to reach in order to contribute a new command in CLiC.
Actually, we'll rely for this on another project we contributed: clic-archetype. This project actually consists in a Maven archetype allowing to create the complete project structure to be used in order to develop your Eclipse plugin. Icing on the cake, all the default configuration to be used in order to package this plugin is already managed in the archetype, so you'll have something completely working out of the box.
0. Installing the archetype
First of all, you'll have to retrieve the archetype locally: git clone git@github.com:awltech/clic-archetype.git. Then, simply install this archetype in your local Maven repository: cd clic-archetype; mvn clean install.
1. Invoking the archetype
After this first step, you just need to invoke the archetype where you want to create the project (in your workspace, for example). Here's how to do it from a command-line: mvn archetype:create -DgroupId=com.sample -DartifactId=demo -Dversion=1.0 -DarchetypeGroupId=com.worldline.clic -DarchetypeArtifactId=clic-archetype
For sure, you'll have to replace the groupId, artifactId, and version values by those corresponding to your project.
If you don't want to type long command-lines, you can also use the interactive way of creating projects with Maven archetypes by simply typing mvn archetype:generate and then following the instructions on the screen. Basically, it'll ask you to type the number of the archetype which will be displayed in a list, and then give the required inputs in order to create the project.
Finally, it's also possible to create the Maven project directly from Eclipse, as soon as you installed m2e plugins in your Eclipse instance. For this, simply go to File > New > Other... > Maven Project and select clic-archetype from the list which is displayed: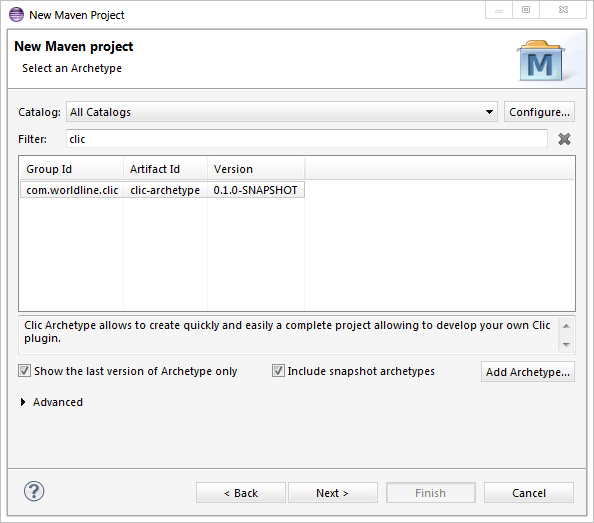 Then, simply fulfill the form asking for your project's references and click on Finish so your project will be created: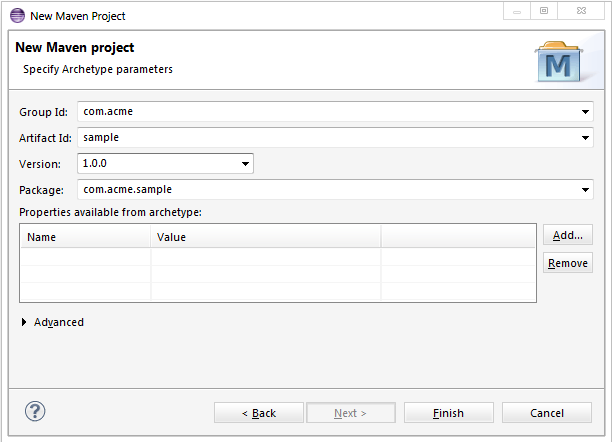 2. Already done!
That's all! At this point, you already created the whole project's structure, and an example of a command is provided in the archetype. In your Eclipse workspace, you'll have something like this created: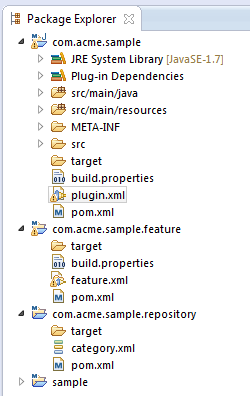 The only project you'll have to care about is the Eclipse plugin one (not containing feature or repository in its name). The other projects are created in order to deal with packaging purpose. In the next part of the documentation, we'll see together how to modify the example command, and how to contribute new commands in your plugin.
Warning: We're using Tycho in order to deal with Eclipse plugins and Maven integration, and it requires a particular way of dealing with version numbers. This is already covered by the archetype, but you mustn't use the classical -SNAPSHOT qualifier in the version you'll provide to the archetype. Please provide the version as a simple major.minor.micro format.